---
DISCLAIMER: The articles linked from this website are from several reputed online news sources. They do not necessarily reflect the opinions of this website or its staff. We do not guarantee the accuracy of the linked news articles.
---
President appoints Tumbahamphe minister, swears her in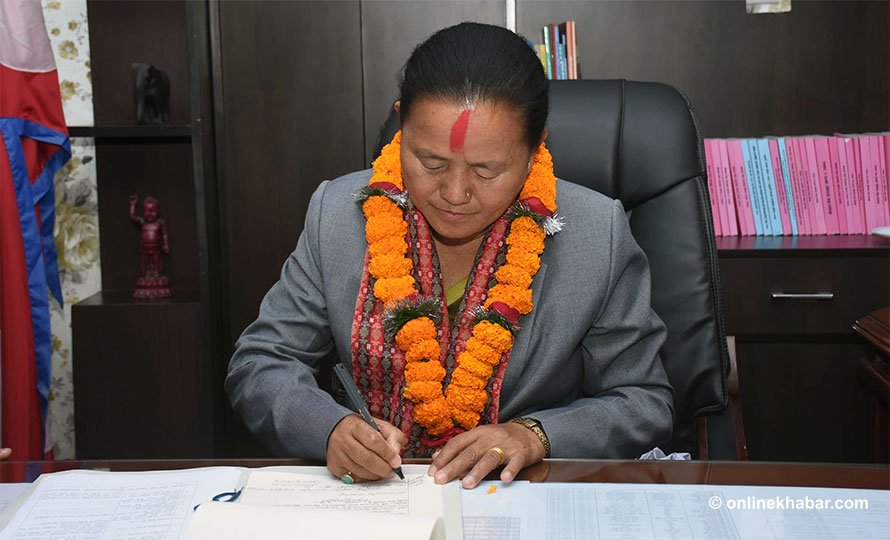 Kathmandu, February 17
President Bidya Devi Bhandari on Monday appointed Shiva Maya Tumbahamphe, a House of Representatives member of the ruling Nepal Communist Party, as the Minister for Law, Justice and Parliamentary Affairs.
The President's Office says the appointment was made as per a recommendation from Prime Minister KP Sharma Oli. Tumbahamphe took the oath of office and secrecy from Bhandari this afternoon. She also assumed her office immediately.
The position was vacant since the resignation of the then Deputy Prime Minister and Minister for Law, Upendra Yadav, on December 24, 2019. PM Oli had assigned Health Minister Bhanu Bhakta Dhakal to work as an acting law minister.
Tumbahamphe was the deputy speaker of the House till January 20. After the resignation of the then speaker Krishna Bahadur Mahara on October 1, 2019, she had been staking her claim on the position, but her party leadership consistently denied. After the party decided to nominate Agni Prasad Sapkota as the speaker in late January, a defeated Tumbahamphe resigned.
Apparently, the party leadership including PM Oli had assured her of a
---
Read the full story on Online Khabar
---