Aakash Bhairab halchok
7 generations on, this family is giving the face to Kathmandu's Indra Jatra. It will continue for at least a few decades
Sitting in a small room, Tej Bahadur Chitrakar paints a mask of (Halchok) Aakash Bhairav and outlines the deity's white teeth and fangs. The 83-year-old of the Chitrakar family has been doing this work for the annual Indra Jatra since 1971 and, despite his age, he does it with complete finesse thanks to his steady hands.
"Our family got the responsibility in 1896. My forefather got the work passed down from another relative of ours, who could not continue then for some reason. But, as for how the work was first given to us, it is not clear," says Chitrakar.
Remembering his early days, he says, "I should have been about 10 years old when the masks were brought to our home and my father [Ganesh Chitrakar] used to decorate them. That time, it was in an older house and a much smaller room. And, he would work alone and would dismiss us from the room, even when we took interest. He used to take it not just as a family responsibility but a kind of devotion to the god."
"Even until 1970, he did not involve me in the process. So I never got to learn the art from him, But, when we got paralysed, I took over the responsibility as my own, learning through mistakes with the help of my uncles," he talks about how he continued the family legacy with the same devotion.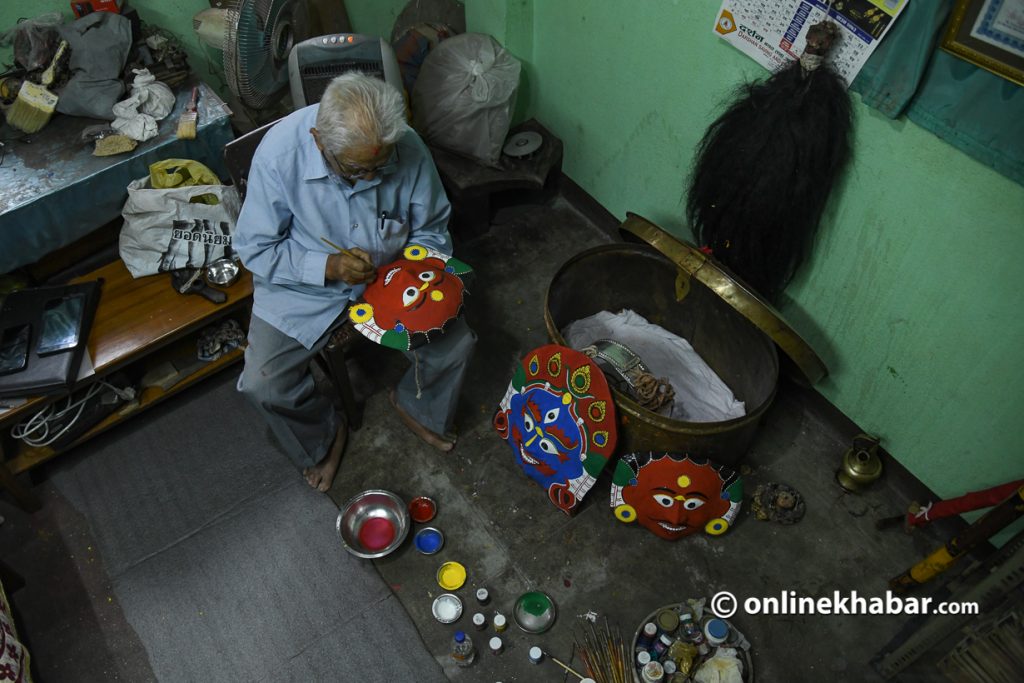 So, to correct that now, he is teaching and supervising his grandnephew, who has been helping him in the process for many years now. "It is only right that we pass this on to the next generation," he says.
The making
The Chitrakar family does not just decorate but they are also the ones that make the masks used in the Aakash Bhairav Naach that reaches core Kathmandu from the hills of Halchok on the valley's western side. "The masks are made only once every 12 years. It is made up of layers of cloth, jute sack, Nepali kagaj (paper) held together with maad (made of flour). At that time, all 10 masks are made and decorated during Chaitra (mid-March to mid-April)."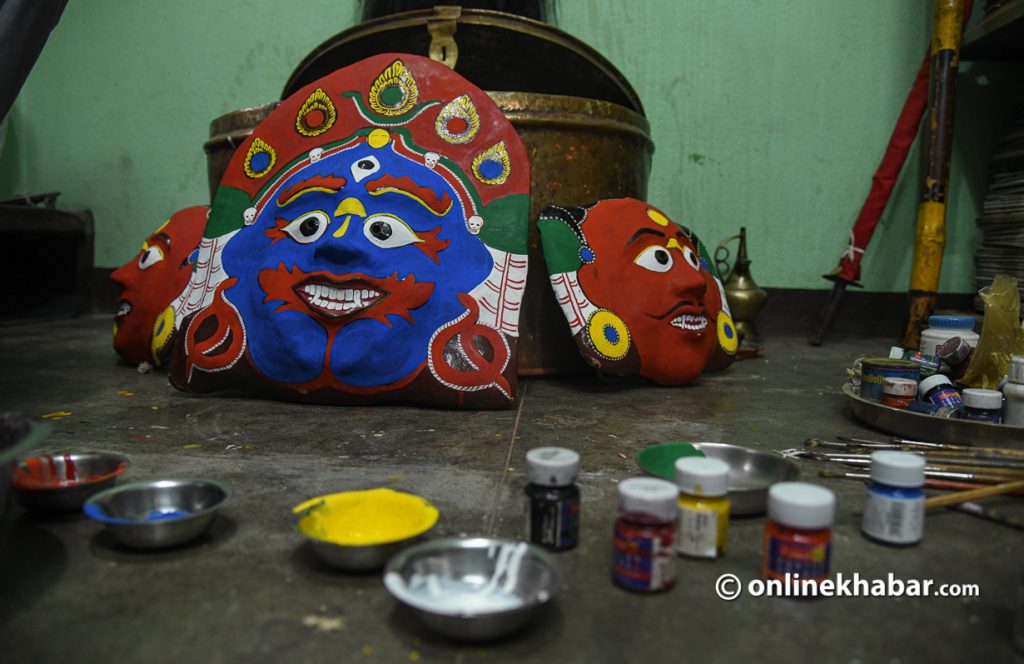 For the yearly dance, they take a week to
Read the full story at english.onlinekhabar.com

---
Also Read