Books
7 books about Nepal in English that you should read to know the country
For many, the holidays are ideal to catch up on reading. While you might have a list of books you want to read, we bring you a list of books about Nepal that will help you understand what the country was in the past. These books touch mostly on the modern history of Nepal that deals with tourism, politics and social life.
We are sure that by the end of these books, you will get a great understanding of the country and might be able to grasp why Nepal is what it is today. From the formation of Nepal's first political party to laying the foundation of Nepal's first hotel, the books we have listed for you today have them all.
So, what are you waiting for? Go get them.
1. The Snow Leopard (Peter Matthiessen)
This vintage classic is a must-read. Written by Peter Matthiessen, the book tells the journey of the writer and Gorge Schaller, a naturalist, who came to Nepal to study Himalayan blue sheep and snow leopards in the Dolpo region of Nepal. They travel on foot from Pokhara to Shey Gompa. They also travel further beyond to the Crystal monastery.
The writer also dwells a lot on the need for meditation and touches on some aspects of Zen Buddhism. It is a timeless classic and one of the best travel books written about Nepal.
2. Tiger for Breakfast (Michel Peissel)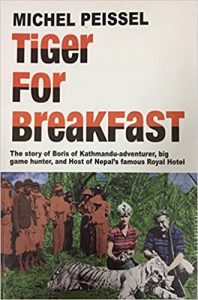 Tiger for Breakfast is a book about a man who changed the way Nepal perceived tourism. Written by Michel Peissel, the book tells the story of Boris Lissanevitch, a Russian man who fled his country and became a socialite
Read the full story at english.onlinekhabar.com

---